Are you tired of information silos and time-consuming administration? An integration between your cloud PBX and CRM system can save you both time and money. Here, we present 5 good reasons to integrate!
Whether you work as a sales person or in customer service, you probably know about the benefits of a CRM system. It gathers all your business and customer information in one place, allowing you to focus on the customer instead of boring administration.
But did you know that an integration with your cloud PBX and CRM system can make your workdays a lot more efficient? Telavox offer integrations with CRM systems such as Hubspot, giving you a variety of benefits and synergies.
In this article, we'll discuss 5 excellent reasons to integrate your cloud PBX with your CRM -system:
More detailed info about Telavox CRM integrations:
1. Higher productivity and efficiency
Without a PBX-CRM integration, it becomes difficult for salespeople to track their interactions with customers over the phone. Data will have to be entered manually into the CRM, wasting valuable time and effort. According to HubSpot Research, salespeople spend 17 per cent of their time on data entry, and just one-third of their time on actually selling.
By performing integrating your PBX and CRM, salespeople have easier access to the information they need to do their jobs well, making them more productive and efficient. For example, call history, call recordings, and voicemails can all be automatically sent from your PBX system to your CRM software.
In addition, by integrating your PBX and CRM systems, sales agents have access to real-time information about the person at the other end of the line. This can help your salespeople make more convincing and compelling arguments, and ultimately close more deals.
2. Improved internal communication
The explosion in big data means that organisations have more information than ever before. According to a survey by IDG, the average company now manages 163 terabytes (163,000 gigabytes) of data. That's a lot of information.
Unfortunately, far too much of this data remains inaccessible to the people who truly need it. Business experts have coined the term "data silo" for the phenomenon in which a repository of information is restricted for the use of only one team or department, whether intentionally or unintentionally.
Data silos are a serious impediment to effective business operations and obtaining valuable data-driven insights. In an Adobe survey, 37 per cent of respondents said that data silos are one of the main challenges in creating a single view of a company's customers.
PBX-CRM integration is an essential tactic for breaking down data silos within your organization. By ensuring the free flow of data between these two systems, you'll help every employee gain access to the information they need to excel at their jobs.
3. Improved BI and analytics
Without a keen understanding of your customers and your business processes, you'll struggle to keep up with your data-driven competitors. The good news: by breaking down data silos via PBX and CRM integration, your organisation will enjoy access to better business intelligence and analytics.
For example, sales managers need to see how their employees are performing to handle each customer relationship with the care that it deserves.
If a specific sales agent has phone calls with a particular customer that are longer than average, managers can investigate and take the appropriate action. This could be sending the customer relevant resources, or assigning a second agent to help out with the account.
What's more, by tracking the most important sales and customer metrics and KPIs over time, you can judge the efficacy of your business practices. Having more information about your customer relationships and the way your sales team works is always a positive, making this one of the most significant advantages of PBX-CRM integration.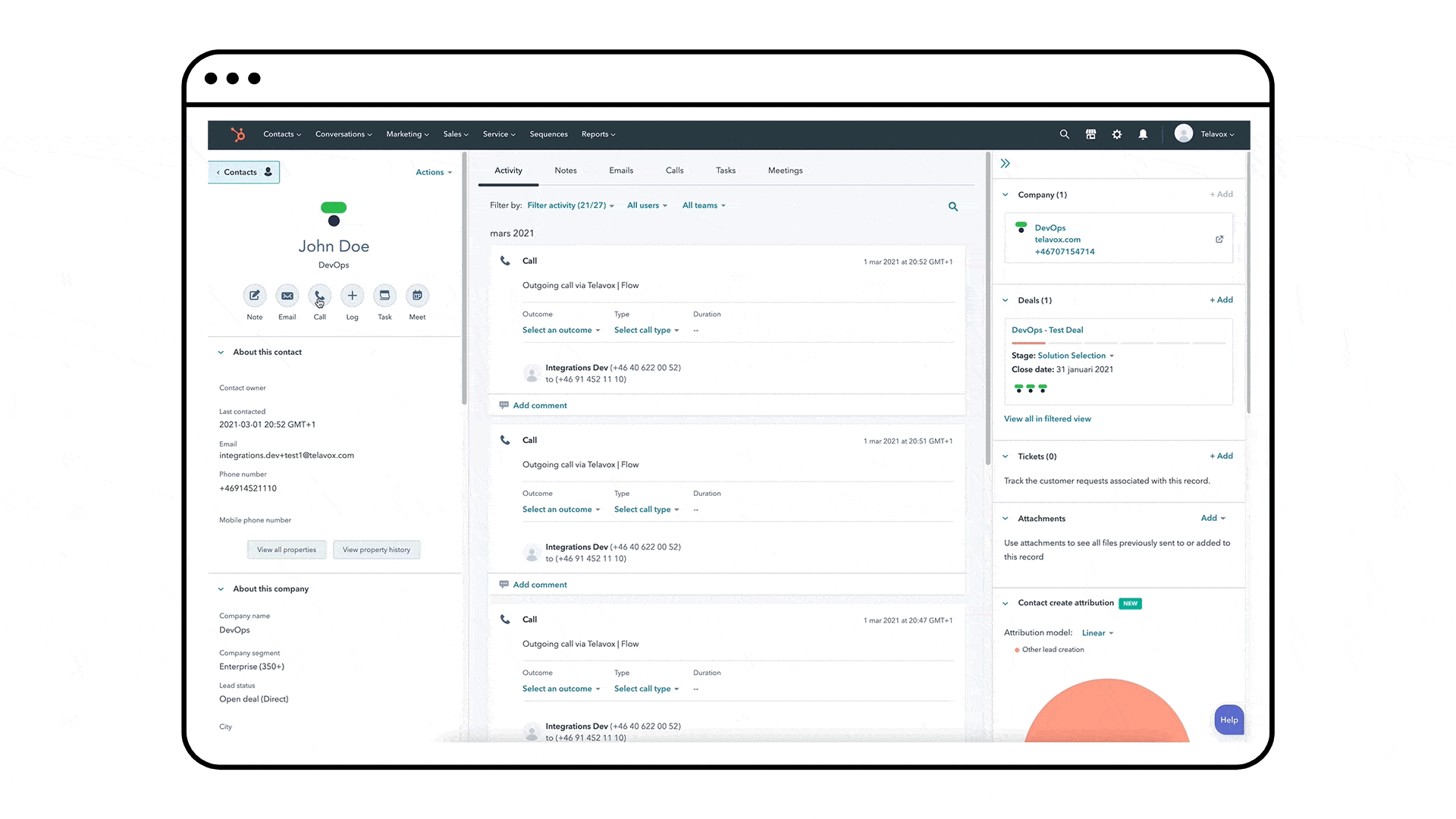 With Telavox's HubSpot-integration, you can make your employees' workdays a whole lot easier by integration PBX features directly in the HubSpot interface.
4. Happier customers
The primary goal of any CRM software should be to improve your relationships with your customers. Integrating PBX and CRM systems ensures that your customers and prospects will always be treated with the care and respect they deserve:
PBX-CRM integration makes people on both sides of the call happier. Your business has access to real-time calling data about the customer and your previous interactions. In turn, you can use this data to tailor your sales pitches or better anticipate the customer's questions and demands.
When a customer calls support, agents can automatically view their personal information and profile, including any previous interactions. Customers who are calling to follow up about a technical support issue, for example, can be directed to the agent who previously handled their call.
Ultimately, integrating your PBX and CRM systems leads to shorter wait times, shorter calls, and more satisfied customers.
5. Easier ticket management
If you get a barrage of customer calls each day, it can be hard to keep track of what was said. By integrating, you'll get access to contact cards and call history during the conversation. That allows you to take useful notes about who spoke to the customer last, and what the matter was about, for example.
Smart, right?
Conclusion – the benefits of integrating
Integrations are a hot IT topic these days, as organisations of all sizes and industries seek to bring the separate parts of their business closer together. A PBX-CRM integration is a powerful and effective tool for improving sales productivity, getting smarter data-driven insights, and delivering a superior customer experience.
Improve your productivity with smart tools.
Enable easier access to information throughout the company.
You get useful stats for analysis and insights.
You can communicate with customers in a more professional way.
It gets easier to handle tickets.
Telavox offers a mature, feature-rich cloud PBX platform that can easily integrate with a variety of third-party business software – like HubSpot!
To learn more about how you can unlock more business value with Telavox, get in touch with our team today for a free demo.