Wouldn't you like to make your work life a little bit easier? That's exactly what programmability can do. But what is it, exactly? And what benefits does it bring? In this post, we get into all that. Read on!
What is programmability in telephony?
Programmability is a flexible and powerful solution to design intelligent, automated call workflows. It ensures your customer talks to the right person and allows your agent to focus on what's important.
What are the benefits of programmability?
Programmability is just one in a long line of smart features for your PBX. It all comes down to efficient call distribution. With the right system – and programmability in place – you can quickly route calls to the right person, allowing for greater productivity and ultimately a better experience for your customers.
Here are 3 benefits of programmability:
1. Higher efficiency
Intelligent and automated call flows result in higher efficiency since the integration leverages available data to make sure your customer gets the best support. Your customer ends up with the right contact from the start, reducing the effort to obtain information or redirect the customer to another agent.
2. Happy customers
The customer receives a personalised experience where they reach the most appropriate agent swiftly and simply. Intelligent routing will shorten your queue times and result in a better customer experience.
3. Empowered agents
Essential customer information will be shown to the agent when in a call, giving them customised and accurate support.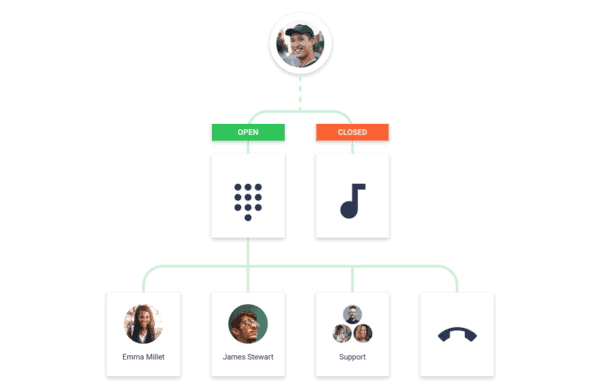 Programmability in Telavox
Telavox can route a call to the most suitable agent or make other intelligent workflows based on input provided by internal or external sources. Delight your customers by giving them a personalised experience when they reach out to you.
Here are 4 key features of programmability in Telavox:
1. Route-based on external data
We can integrate your internal system to perform lookups on the customer that's calling. That data can be used to route the caller to the most appropriate agent. For example, if your external system states that the caller is a premium customer, Telavox can route that customer to a dedicated queue.
2. Data transparency
Telavox can store variables regarding the caller, either internal information about the call or from external sources and present that information to the agent when they take the call.
3. Data compliance
Verify your customer's identity using BankID or through your CRM system.
4. High flexibility and cost-efficiency
The solution is tailored to your needs. We make sure you get a streamlined process and a cost-efficient setup.
Advanced programmability in Telavox
We connect via API to your existing CRM or ERP system and build automated custom flows for call handling, such as:
Receive an incoming call.

Make an API call to the CRM to check if the caller's number belongs to a VIP customer.

If true, route the call to a dedicated account manager.
Smart, right?
Do you want a more efficient workday? Get a taste of what Telavox's platform can do for you – book a demo today!