Some customers prefer to pick up the phone, while others want to send an email or chat. With a live chat like Telavox's installed on your website, you become more accessible to your customers. You always take advantage of every deal and provide additional communication channels for your company.
Surveys show that today's customers are impatient and easily distracted. Therefore, they turn to another provider if they need help quickly. As many as 44% of Zendesk's surveyed customers stated that access to specialist help via live chat, also called chat widgets, is one of the most critical features a company can offer online. According to Forrester, a visitor who uses live chat is 2.8 times more likely to purchase than if they did not.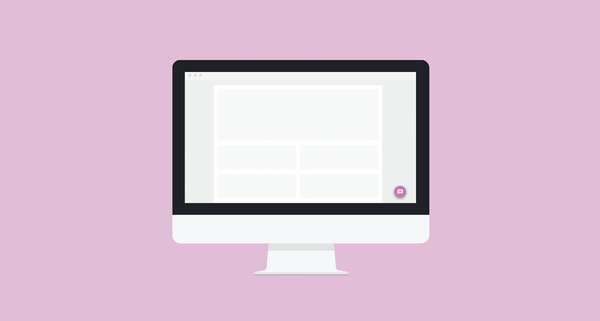 Why invest in a live chat?
Today, customers usually visit a website before talking to someone. With a live chat, you can provide visitors with the option to speak to a person instantly. It is a great way to drive conversion, increase sales, and provide excellent customer service.
A live chat is easily accessible to your customers as they don't need to look for more information or an email address. Instead, support appears in a pop-up directly on your website. They get to have conversations with your agents in real-time, which usually results in happier customers as they won't have to wait for an answer to an email or spend time in a phone queue.
In addition, many appreciate the informal touch of a live chat. A chat conversation breaks down the interactions into smaller parts, and what could have been lots of emails over several days can usually be solved in a chat in a few minutes. We've written before about the importance of first-contact resolution, with which live chat can greatly assist. If you use the widget correctly, live chat can be the helping hand your customers need. A helping hand that results in a positive experience increases the possibility of satisfied customers returning, as well as increased revenue in the future.
Telavox chat widget – available as standard
Telavox chat widget allows for friction-free customer conversations. No other product offers as many functions in the same application as the Telavox chat widget with the combination of telephony and chat. You implement it on your company website to live chat with customers.
It becomes much easier to help your customers as the widget displays the waiting time in the telephone queue, the company's opening hours and contact details. As if that wasn't enough, the chat widget is provided at no extra cost within Telavox, so you don't need to pay for and manage a separate system.
We aim to make it possible for our customers to completely remove "contact us"-pages from their websites. Everything should be collected in a neat widget that is available regardless of where you are on the page. The live chat provides additional value where you can create dialogue and adapt the service to the customer's needs.
What do our customers think about the Telavox chat widget?
We asked two of our customers why they like the Telavox chat widget and how they use it on their websites.
Evalena Lindstedt, Head of IT at Branäsgruppen, Sweden's largest privately owned ski group and owner of several ski facilities.
What is the best part about the widget?
"Our department, in charge of our telephony, business travel sales, can manage the opening hours visible on our website without help from other departments – which is great! The Telavox chat widget follows the opening hours we set up in our PBX."
Why did you need a widget on your website?
"As our business is affected by the seasons, the hours we are available to take calls vary greatly. During some periods, we have a lot of callers (and agents responding). Then it is great if our guests are updated about the current situation. If the response time is extended, the guest can use a function that calls them up instead.*"
*This function, called on-hook waiting, means that the person calling can leave their phone number and get a callback instead of waiting in the queue. It is part of our add-on service Call Center Pro. It is for customers looking for more advanced features like co-listening and pause profiles that strengthen PBX functionalities and provide you with extended statistics.
Is the widget user-friendly and easy to install?
"It is straightforward to use, even if it requires some knowledge when adding it to your website. You can also adapt it according to the website's appearance, as it is possible to choose between different colours. You want it to look like an integrated part of the page."
Kenny Nordenberg, CEO at Gasolfyllarna, that provides a wide range of services within LPG installation, refilling, and sales of LPG products.
What is the best part about the widget?
"Customers can easily and quickly get in touch with us via the live chat widget. We believe people are less willing to call and talk to someone today and have less patience to spend time in a telephone queue."
Why did you need a widget on your website?
"We want to make it as easy as possible for all customers to get answers to their questions."
Was the widget easy to install?
"When using WordPress, like us, it was incredibly easy. We just had to configure it in Telavox, upload a file to WordPress, and then it was done. The widget is very user-friendly."


Have we piqued your interest in the Telavox chat widget? Learn more about getting started with the Telavox chat widget.