Many businesses spend a lot of resources on driving traffic to their websites, but stumble on the finish line and lose most of their leads. The problem? Response times are too long. The solution? Live chat !
Traffic is expensive
Imagine someone being interested in the kind of product you're selling. Imagine them searching for it on Google, ending up on your website. Yay! Way to go! You've done an amazing job so far: a prospect, seriously interested in your product or service, is on your website.

To get to this point, chances are you've spent quite a lot of money. On developing your offer, building your website, marketing your brand and driving traffic.

So, now what?

On a surprisingly large number of websites, the answer is: now… nothing.
The 5-minute rule
On most websites, the visitor is simply left to his own devices. It's up to the visitor to click around and try to understand the product and the offer.
Sure, there might be a form for contact details. The visitor might even use it and leave a phone number and an email address. But with no response, it usually won't be long before the visitor bounces back to Google to continue browsing.
Studies show that you have 5 minutes to establish the first contact after a visitor has expressed an interest in your offer online.
If it takes you more than five minutes to answer, your chances of connecting are drastically reduced. And what does it mean, when a visitor leaves your website without connecting with you?
It means all the resources you've spent to get the visitor to your website in the first place, might have been wasted. It also means they are likely to end up connecting with one of your competitors instead.
Be the first to answer – and win the deal
When a customer online shows interest, now is the time to act. Not next week. Not tomorrow. Not even later today.
It's now - or never. Why? Because otherwise, your competition will beat you to it.
Imagine that you're selling your apartment and you're about to hire a real estate agent. You're browsing the different agencies online, doing your research and comparing your options. You might leave your details here, and send off a quick email there.
But then, on one website, a small chat window pops up in the right corner and the following message appears:
"Hey there! Selling your apartment? We could schedule an evaluation today!"
And within just minutes, you've made an appointment. When the first of the competitors call you back a few hours later, you've already signed a deal. And when the second competitor gets back to you, via email, your apartment has already been sold.
Lesson learned? Speed is everything.
Live chat means instant communication
The chart below, from a study by Ecoconsultancy, shows why the respondents prefer live chat to other channels. The most important reason is speed: "I get my questions answered immediately". On second place we find "because I can multitask", and in third place that it's the "most efficient communication method".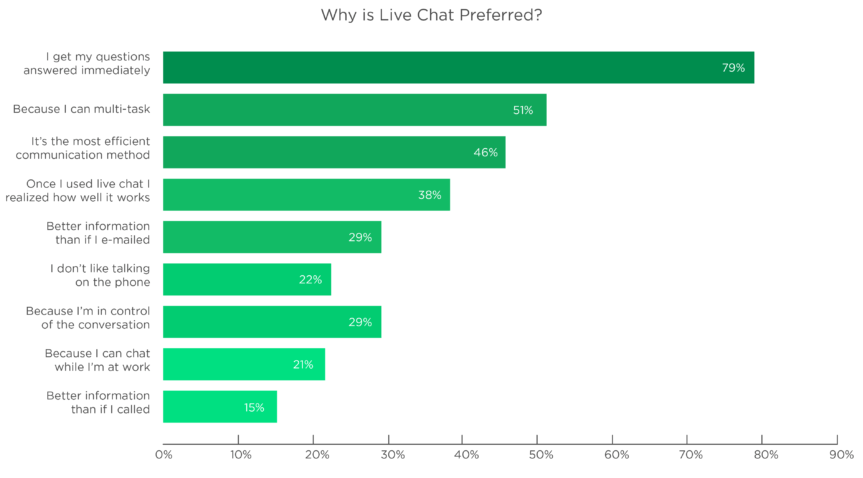 The customer journey has changed
We need to keep in mind that digitalisation has dramatically altered the customer journey. Today, consumers do their own research online before making purchase decisions.
When they've reached the stage where they're actually reaching out to connect, they're often at the end of the buying process, rather than in the beginning. This means that visitors contacting you for the first time online may very well be sizzling hot leads ready to make a purchase.
You'll find some of your hottest leads on your own website.
Studies also show that customers want to be able to chat with companies at all stages of the buyer's journey; from the very first interaction, through the consideration stage and all the way to the final buying decision. Even in post-purchase customer service, customers want live chat to be an option.
The diagram below shows the answers from 1,000 consumers who were asked how they prefer to communicate with companies. It shows clearly how live chat plays an important role all through the buyer's journey.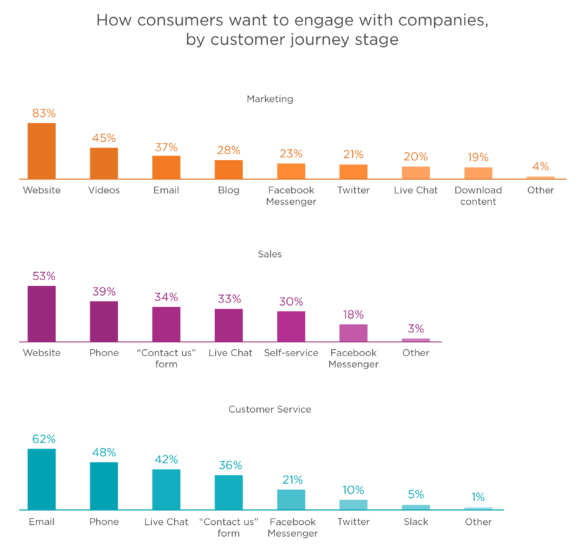 Who should manage the live chat?
Given the fact that customers want to use live chat through the whole customer's journey, it's important to consider what department in your company is actually best suited for running the live chat.
Traditionally, the live chat has belonged to the customer service departments, which often is a great solution. But many businesses would benefit from involving both the marketing and sales departments.
A lack of communication between sales, marketing and customer service is a challenge that many companies struggle with. Why not let a new live chat become the catalyst for change, and for breaking down some silos!
Another strategy is to segment your visitors, directing your primary target group to the chat with a smart first message. Let's consider our real estate agent for example, who initiated the conversation with the question "Selling your apartment?". By doing that, instead of using a more generic "How can I help you?", the company invites sellers, and not buyers, to use the chat.
A competitive advantage
Realising the advantages of live chat will give you a head start. Because even though a majority of customers want to be able to communicate through chat, most companies are still not offering live chat as an option.
Live chat is an easy and cost-efficient way to become quicker than your competitors.
Getting started with live chat in

Telavox

is easy
Did you now that live chat is included in the Telavox widget? It's free and it's super easy to install on your website!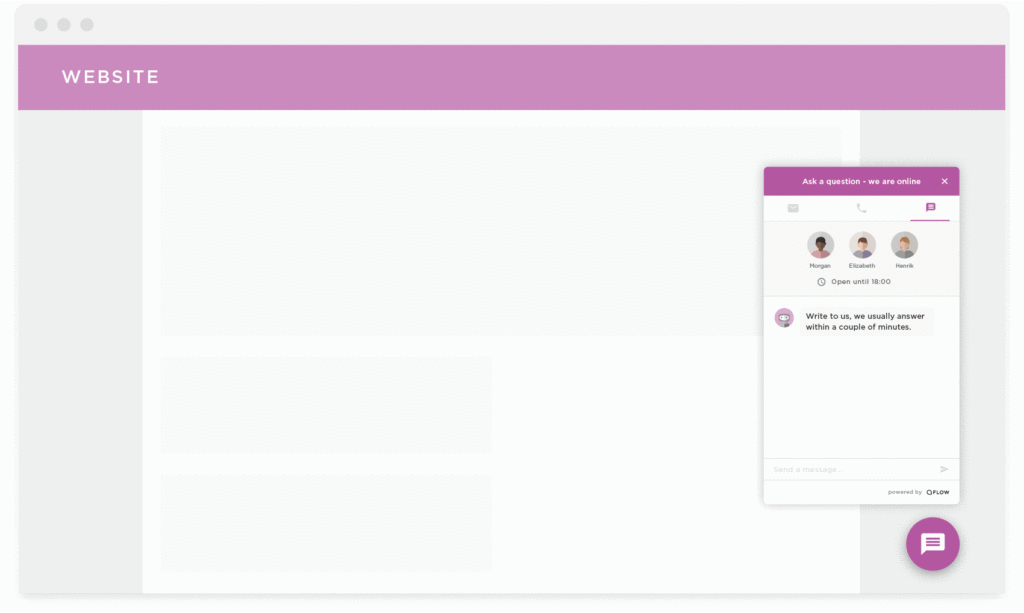 The Telavox widget displays your contact details, opening hours and the estimated wait time in both your chat and by phone. The colour of the widget can be changed and adapted to suit your website.
Sounds interesting? Get in touch and we'll tell you more. Install the live chat today if you're already a Telavox user. This is how you do it.