When, where and how we communicate is constantly changing. Just a few years ago, it was unthinkable for some companies to work from home and have video calls instead of meetings face-to-face. Digital meetings and remote work is here to stay, but have you really adapted and set up a strategy for the future?
The year video calls sky-rocketed
The use of almost all kinds of call- and communication services increased during 2020. Anything else would be weird since so many of us were at home instead of at the office.
At the workplace, Microsoft Teams was the most popular and 46% used the service. For those that worked from home during 2020, 72% used Teams regularly. Video calls in particular exploded, both at work and in private. From the first quarter of 2020, the usage of video calls increased by 8% and in the third quarter 79% used video calls. In 2019, that number was at 70%.
Why do you need a strategy for video calls?
Things are moving quickly, and video calls, chat and working from home has become a part of our everyday. There are loads of reasons for your company to continue with remote work. One of them is that people enjoy it and want to continue doing so.
Although how and where we work has changed, strategic initiatives and rules don't always keep up with the times. Have you formulated a strategy or revised your previous one if parts of the workforce have started to work from home? It's high time.
Hybrid meetings – all the more common
A lot of people will continue to work from home, even as more return to the office. This means that we'll get even more hybrid meetings: a combination of participants that are both in-person and remote. To tackle this in the right way, you need smart, digital tools so that everyone can work efficiently.
The premise of digital meetings has changed – many companies have streamlined, shortened or increased the number of meetings. People can put up with a lot, but not with faulty video calls.
Today, inadequate tech is a no-no. The video- as well as audio-quality has to be of high quality. We will most likely not return to having meetings solely in person. Instead, there have to be ways for every participant to hear, see and interact – where ever they are.
There are loads of positives to having hybrid meetings. For example, it's sustainable from an economic and environmental perspective to be able to invite multiple participants. It also makes it easier to include people from different countries.
However, bear in mind that those who that aren't there in person should be able to engage in a hybrid meeting. They should not just get a recorded version of the meeting in question.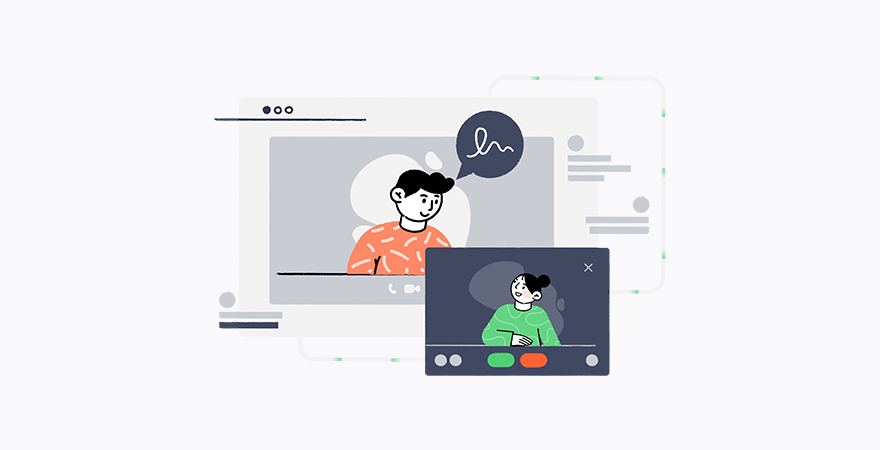 5 things to keep in mind when designing a video meetings strategy
Take stock of what already exists in your existing conference rooms – what do you need in order to partake? Can all online participants interact?
Who is responsible for the equipment and making sure it works properly?
Be clear with what's expected of the employees and their skills. For example, do everyone need to know how to connect the conference room to a camera?
Educate your staff. Ensure that the ones arranging and leading the meetings are aware of how to work the tech and make the meetings seamless for digital and physical participants.
Video conferences with Telavox
Do you and a colleague need to have a short video meeting? Or do you want to set up a workshop with a client? Whatever the meeting, it's easily doable with Telavox's video conference.
Internal video conference
In the Telavox app, it' you can quickly start a video call with one or more colleagues directly from your private chat.
External video conference
It's just as simple if you want to invite participants from outside of your organisation. They don't need to install any software – they can go directly to the video call from their browser. You start and connect to the video conference through the Telavox web app or from your computer or phone.
You can invite up to ten participants, and the service works like any other video call you're familiar with. It's easy to share your screen to present or mute the sound when your dog is barking in the background.
If you want to learn more about Telavox and our communication solutions, don't hesitate to contact us!