Loxodonta has helped companies with their digitalisation since 1985. With 35 years in the business, they've sold a lot of different solutions. But since they started selling Telavox, they haven't looked back.
"As a reseller with a great partner, we get the resources to do wonders", Ercan Akdogan at Loxodonta, says.
Loxodonta is unique: It's a family-owned consultancy. It all started when the founder Lars-Erik Larson sold hardware, and then switched to sell IT services. Today, Loxodonta has offices at nine places in Sweden, and Lars-Erik Larson's daughter Jenny Larson runs the company together with CEO Mattias Pettersson and CTO Fredrik Fritzon.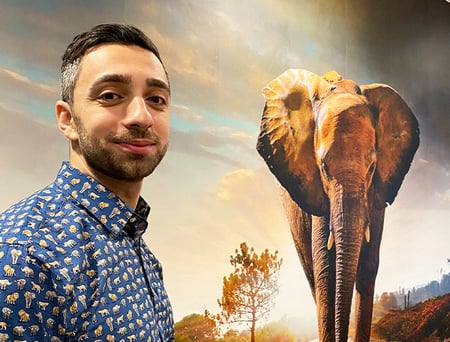 Ercan Akdogan is responsible for selling telephony and related services.
"I contact new and existing clients, analyse economic and technical matters, recommend solutions and educate our clients", he says.
Telavox and Loxodonta – a perfect partnership
Loxodonta has been a Telavox partner since 2014, and Ercan is delighted with the collaboration.
"Telavox is an excellent company with values that align with ours. We have experience with a lot of different operators, but Telavox is unique in that they have such an exclusive PBX for companies. They present us with information, sales tools and education."
Ercan especially appreciates Telavox's partner program.
"We can solve almost everything by ourselves, backed by Telavox. It's thanks to the fantastic partner support that works flawlessly. Our contact Adam Steenberg provides us with answers and is an enormous sales support."
Attentiveness is the key to a successful solution
Loxodonta has clients of all shapes and sizes, from one-man companies to large factories with thousands of employees. Even the industries differ from restaurants to hospitals and law firms.
"You have to be attentive and put yourself in the client's shoes to know what kind of solution they need."
Easy to manage the PBX on your own
Simplicity, flexibility and transparency – that's what Loxodonta's clients like the best with Telavox.
"If someone requests a feature that doesn't exist, Telavox can develop it. They have one of the best cloud-based solutions available. It's incredibly user-friendly: even a five-year-old can manage it."
Supporting the client from consultation to implementation
Loxodonta are there for their clients every step of the way, from deciding on a solution to support. The installation is especially important.
"We do our installations and training by ourselves. By the time we launch, we've already configured the PBX. That way, we can focus on helping our users get started."
Ercan estimates that the product area of telephony has made a hundred per cent increase in revenue, compared to 2018 – a new record.
"We have made about 1 000 connections and gained 20 new telephony clients. But our goal isn't just that the customer should pick Loxodonta and Telavox once – our goal is that they decide to go with us for the coming period."
The competition is the second choice
"Telavox differentiates themselves from a lot of the competition because their PBX services are unbound and readily packaged. Plus, their solution is very scalable and the price is right. Telavox is the best cloud PBX on the market. This, combined with a great partner program and Telavox's values, makes the competitors the second choice", Ercan says.