To be new at a company is both exciting and fun, but it can also be confusing. There are so many new people to meet, meeting rooms to locate, and abbreviations to learn. But by using Telavox's platform, I became a part of the family in no time. So what does Telavox simplify, really?
1. Easy communication with chat (fewer emails!)
You know what it's like: Email after email is sent in your inbox, and it never ends. Soon, the number of unread emails are so many that simply opening your inbox seems like a daunting task. Some of us are better than others at taming the mail monster, but one thing's for certain: we send too many unnecessary emails.
The solution? Use the chat function in Telavox. It makes it easy to send a message to a coworker without feeling like you're spamming them. It's simpler to reach out to a colleague with a chat message rather than a formal mail.
It's more efficient to gather all features in one place instead of using yet another third-party solution. With Telavox, you get everything in one place: contacts, telephony, chat, and more. It also helped me with a certain thing:
2. Remembering people's names
I admit: I'm not great at names. It's one thing to be introduced to a few people, but when meeting a big group, their names usually go in one ear and out the other. And when I got to the Telavox HQ in Malmö, Sweden, I had over 100 colleagues.
Luckily, the Telavox app simplified things. There, you can find all your colleagues and relevant info such as how to contact them, their department, and which country they're in. If they have a profile picture, it helps to put a face to a name.
Another great feature is profiles: I can easily see if my colleagues are in a meeting, a call or away for lunch.
You can set up your profiles to sync with your calendar and create custom ones. For example, we have a customer in the northern parts of Sweden with a profile for when he's out riding his snowmobile.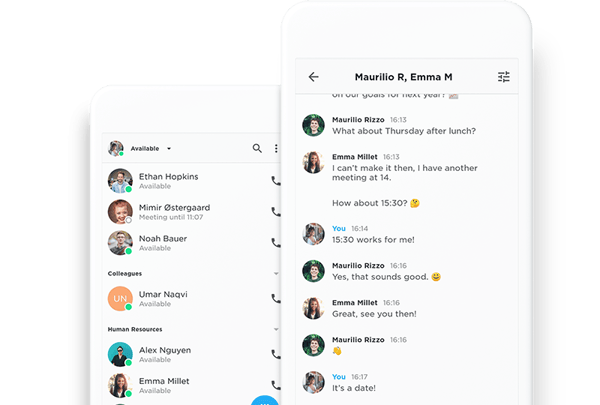 3. Chat rooms
One of the best things about working with Telavox is the fantastic atmosphere. The colleagues are definitely one of the best reasons to work here.There are a plethora of chat rooms in the app where you can find every topic imaginable: yoga, land hockey, gaming, cooking – it's all there. Oh, and there's a chat where we share pictures of our pets!
The chat rooms are also a place for internal updates about the business and upcoming events.
4. A deeper understanding of the product
Telavox is our product and we know it like the back of our hands. Why? Because we use it every day. This is especially true for the developers since they're the ones tinkering with it. By using Telavox themselves, they can easily find and exterminate any bugs.
There was a lot to learn about the company and the product when I started. Since we use the app daily, I could wrap my head around the functions quicker. When we use the solution, we get the same experience as our customers. This allows us to ask questions that solve their problems.
5. Attending remote meetings is a piece of cake
At Telavox, you get both freedom and responsibility. You can work from home when needed. If you're at home or working remotely and need to attend a meeting, it's easy to do so in a video conference.
In conclusion, Telavox is not just easy to use and very appreciated by our customers; we love the app and use it ourselves. Plus, it's a great tool when you're new at the office!
If you're interested in working with us, have a look at our career page.